No. 4 - RECIPE
Roasted Jalapeño Cilantro Hummus
By now, with all of the time spent at home cooking, we've reconnected with a fundamental truth while in our kitchens creating the perfect dish. That truth is simple and yet complex ...ingredients matter!
At Vibrant, we hold the highest standards for what goes into our bodies and we believe it starts with nourishing ingredients! We offer local and organic ingredients that are Non GMO and free from: gluten, dairy, refined sugar, corn and peanuts. Knowing where our vegetables, spices and herbs come from and how they are grown changes our relationship with nature and with cooking.
The origin story of where our food comes from is one that lives close to our hearts at Vibrant and begins with our incredible farmers: Animal Farm Center, Blackwood Land Institute, Farm Dirt, On the Acre, Verde Greens, Zero-Point Organics, Plant it Forward and Three Sisters.
This month's recipe is the Roasted Spicy Jalapeño Cilantro Hummus on our Veggie Sandwhich. From our kitchen to yours, we hope you enjoy making!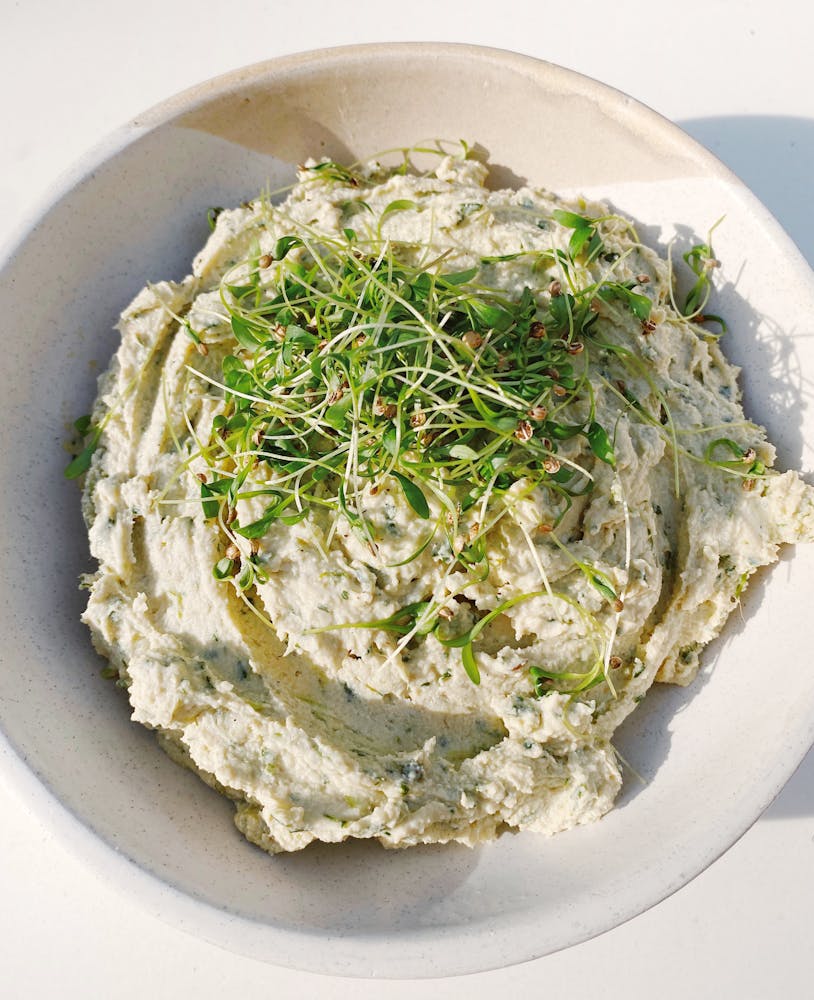 Slow Roasted Garlic

1. Heat oven to 275°
2. Take the head of garlic and separate into cloves but leave the skin on - discard any reaming skins that shed. Place the cloves on a baking sheet.
3. Drizzle cloves with a little olive oil and toss to coat. Then back for 25-30 minutes, or until slightly golden brown and fragrant - be careful not to burn.
4. Peel cloves and set aside.


Charred Jalapeño

1. Preheat over to broil. Cut the Jalapeños in half and remove seeds and stems. Place pepper skins side up on small baking sheet.
2. Char the Jalapeño for about 5-10 minutes, until skin wrinkles and begins to char. Remove from oven and cool in a closed container to make peeling easier.
3. Remove peppers from closed container and peel skins.
Hummus
1. Drain chickpeas and place in a medium saucepan with baking soda. Cover the chickpeas by a couple of inches with filtered water, then bring the mixture to a boil over high heat. Continue boiling, reducing heat if necessary to prevent overflow, for about 20 minutes or until soft and their skins are falling off. In a fine-mesh strainer, drain the chickpeas and run cool water over them for about 30 seconds. Set aside.
2. Add chickpeas to a blender or food processor with olive oil, cilantro, salt, coriander, cumin, lime, lemon, roasted jalapeños (start with one and work your way up to desired spice level), tahini and roasted garlic cloves.
3. Blend until creamy and smooth, scraping down sides as needed. Taste and adjust seasonings as desired.
4. Spread hummus on seasonal veggies, our Activated Seed Crackers or Ivory Teff Bread. Leftovers will keep well in the fridge, in an air-tight container for one week, though fresh is always best!
---
"When you question what will become of the world, try to remember, you are what will become of the world. And you have a say in that.
---
At Vibrant, we are committed to learning and listening. We stand with our staff, friends, family, community and everyone working together to bring positive change.