Interview with Christine Kengue of Plant It Forward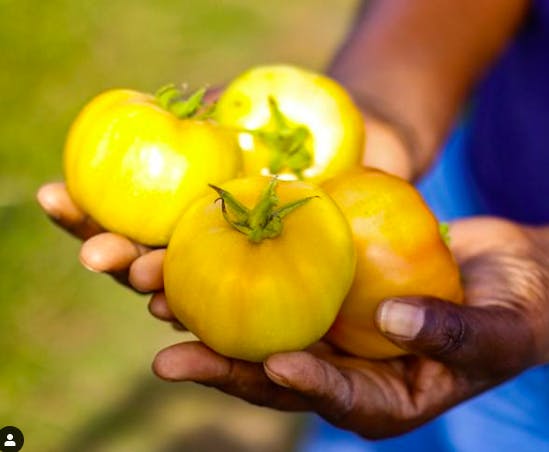 Meet Christine Kengue! Christine is a farmer working with Plant it Forward. Plant It Forward empowers refugees to develop sustainable urban farming businesses that produce fresh, healthy food for our community. The organization secures land, selects, trains and mentors farmers, helping each establish their own urban farm to sell under the Plant It Forward brand. At Vibrant, we are honored to work with so many inspiring, local farmers here in Houston and are excited to share more with you about the personal experience behind owning a farm.
Christine is from the Republic of Congo and in 2009 resettled in Houston. She speaks French, Znebi, Lingala, and is continuing to learn English when not working on her farm. The weather in Houston is her favorite thing about the city, as it's familiar and advantageous to a Congo-raised farmer. Christine most enjoys farming for the sense of peace and accomplishment that harvesting provides. Her favorite crops to grow are tomatoes, eggplant, and lettuce.
"There is something new to 
learn or observe every day." 
How did gardening and farming begin for you?
I started farming at a very young age. Back in the day I remember going to the farm with my mother and helping her out. From there, I grew up and acquired my own land and I started growing all kinds of vegetables for sale at the market.
How do you believe urban farms are playing a role in bringing communities together?
Urban farms make access to really fresh food a lot more accessible to city-dwellers. I think our farm's presence is reassuring to the community; people know that there is local food grown year-round without pesticide, right in our neighborhood. Our farm is a type of community space. We welcome volunteers, who can do hands-on work with us and at the same time learn practical knowledge about growing food.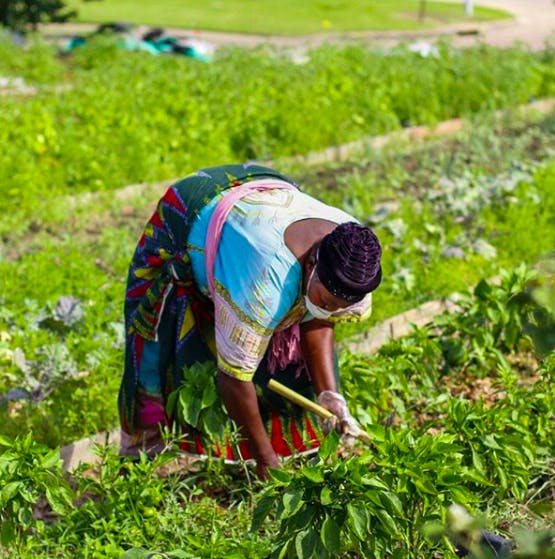 What advice to you have for people who are starting a small garden at home?
My advice is: have patience. Every season, not everything will make it. Not everything will grow and produce successfully. It can be very overwhelming depending on the size of your garden, and the season. Accept the challenges and celebrate your successes!
What is a lesson farming has taught you that you would like to share with others?
As a farmer, I've learned to spread out the risk. Plant different varieties. Try different crops in different patches of soil, because the results may be different. Keep feeding your soil, adding compost and mulch; it should improve over time. And: be patient and perceptive. Farming takes a lot of hard work. Managing water flow, preparing planting beds & keeping them clean and weeded, planting and monitoring, and harvesting all take time! There is something new to learn or observe every day.
What would you like to share about your practice and Plant It Forward?
I have been farming pretty much my whole life, and it is something that I enjoy doing not only because it's my profession, but because I make a lot of people happy by producing locally grown veggies. I take a lot of pride in the quality of the fresh produce that I provide to my customers.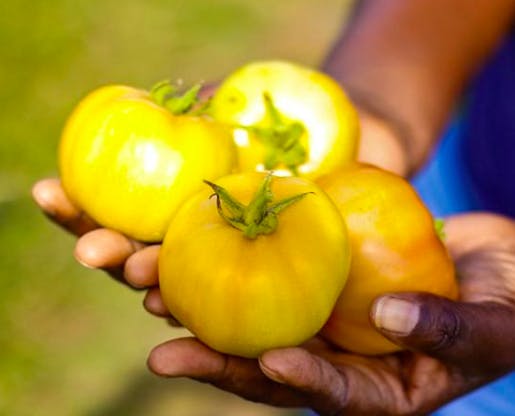 ---
You can support Farmer Christine by:
- Joining the Plant It Forward Farm Share. Christine services the following locations: Dandelion Cafe - Bellaire and PIF Warehouse - South Central. She also sells her produce to the PIF Food Hub, that distributes to additional locations throughout Houston. Learn more HERE!
- Meeting Christine at the farmers market. Christine attends Braeswood Farmers Market every Saturday 9-1 at 5401 South Braeswood, Houston, TX 77096 in Southwest Houston.
- Ordering from Vibrant. This season, Farmer Christine has harvested banana peppers, Roma tomatoes, and cherry tomatoes that are featured on our menu!
---